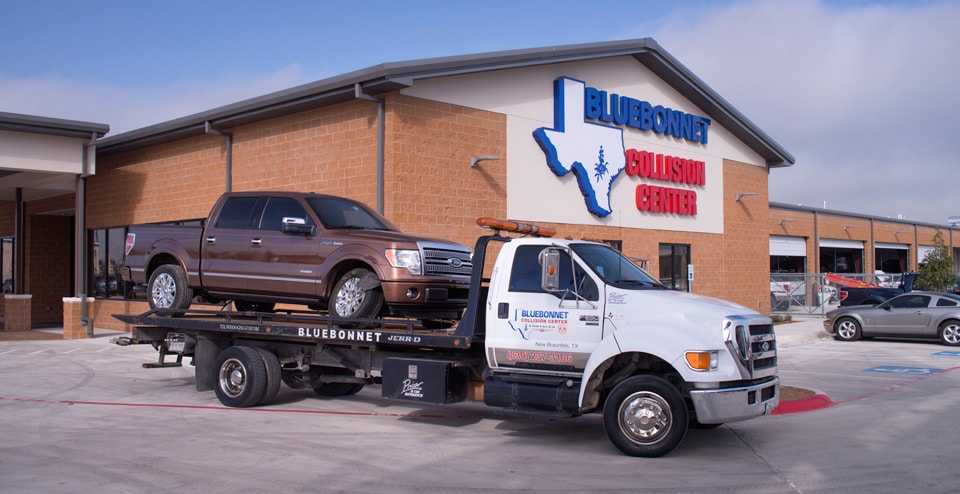 Collision Center near Seguin TX
Our Services
Body Work and Repair
The sophisticated construction of today's vehicle requires continued education of our Ford Certified Technicians. Our equipment and techniques will allow us to restore your vehicle to the original manufacturer specifications.  The end result is a professional repair.
The Bluebonnet Collision Center in New Braunfels will carefully restore your car's performance (how it steers, handles, rides, and operates), its mechanics (engine, drive train, balance & alignment) and the fit and finish (seams between the hood, fenders, grill and bumpers) to ensure that it is true to manufacturer specifications for cars in San Antonio.
Guaranteed Paint Work
Well done auto paint can make your vehicle stand out in a crowd. Whether you are repairing a collision, refreshing your older car or just upgrading the looks of your favorite vehicle, Bluebonnet Collision Center in New Braunfels stands by to assist with your auto painting needs.
Our auto body & paint shop can perform a variety of paint services from minor paint repair and scratch repair to complete auto painting and everything in between for drivers in San Marcos, TX, Seguin and San Antonio:

Touch-ups
Bumper Scratches
Paint Chips
Major Paint Scrapes
Full Auto Body Repaint
Paint repair can be less costly than you think.
Major Collision or Full Auto Body Painting
Our auto paint shop also specializes in full auto body painting as part of collision repair. We offer several levels of painting from full body restoration painting to a quick refresh of your older cars paint.
Experienced Auto Body Painters
The auto paint specialists at the Bluebonnet Collision Center will spray a perfect finish. Our years of experience and certification provide you with the peace of mind to know that you have chosen the right auto paint shop.
________________________________________________________________________
What to Expect
Administrative
 After the estimate has been written, the insurance company and owner approvals are obtained.
Parts/Disassembly
 In most cases, parts are ordered before the vehicle goes into production. The estimate is given to the technician that has been assigned to repair your vehicle. Damaged parts are removed, and a list is prepared by the Estimator  that details all hidden damage found at this time.
Revised Estimate
 The Estimator makes changes to the estimate based on additional damage that is found and forwards this information to the insurance company. The vehicle owner is called with an update. Many times, additional parts will need to be ordered after the estimate is revised.
Structural Repairs
 If any damage is found to the inner structure, it is repaired on one of our two frame machines.
Cosmetic Repairs
 After removing the vehicle from the frame machine, sheet metal repair and replacement operations are performed.
Refinishing/Polishing
All panels that will need to be refinished go through a very thorough preparation process. The outside finish is applied in one of three downdraft/heated spray booths. Then the exterior of the vehicle is polished as needed to match the original factory finish and texture.
Reassembly
 The vehicle goes back to the body shop to have trim such as door handles and moldings reinstalled.
Mechanical Repairs
 Any mechanical operations that are performed by a specialist, such as air bag replacement, are performed at this time.
Detailing
 The vehicle is cleaned thoroughly inside and out.
Quality Control
 Each area that was repaired is checked closely to ensure that all work was properly completed. In addition, most repaired vehicles are road tested. If anything is found not operating correctly it is either repaired, or if it is something not related to the loss, the customer is notified.
Customer Communication
 The customer is called during the repair process to keep them informed as to the status of the repairs.
Right to choose Facility Law
As the owner of a motor vehicle involved in an accident or submitting an insurance claim, you have the right to choose the shop where you wish to have your vehicle repaired. Your insurance company cannot dictate that you have your vehicle at one of their preferred facilities. We are accident repair specialists
___________________________________________________________________
FAQ's and Glossary of Terms
Do I have to use the body shop that my insurance company recommended?
 No. In the end, the choice is yours. Bluebonnet Collision Center has direct repair contracts with many major insurance companies. We do not have to be on your insurance company's direct repair list in order to repair your car. Bluebonnet works with all insurance companies, and maintains good business relationships with all of their local adjusters, making it easy to complete your repairs and your paperwork.
Do I need to get more than one estimate?
No. You only need to get one estimate at the shop of your choice.
The insurance company estimate is less than your estimate. What do I do?
 If the insurance company has already written an estimate, it is a good starting point for us. The estimate has useful information such as the claim number, a parts list, and the adjuster's contact information. However, many times the insurance company will write an estimate that is conservative, and will wait until your car is at the Bluebonnet Collision Center and taken apart. Often times, there is hidden damage that cannot be seen until it is dismantled. That is when we contact them to report additional damage and costs.
 The insurance company issued me a check. What do I do with it?
 Hold on to the check until after your car repairs are finished, and bring it with you when you are picking up your car.
Do you use factory paint?
 In general, car manufacturers do not sell paint. The Bluebonnet Collision Center refinishes cars using a PPG High Performance Envirobase waterborne paint system, restoring your car's finish to its original condition. Our paint system is environmentally friendly, reducing the amount of VOCs that are emitted. And it is warranted by the manufacturer for as long as you have your car.
Will my paint match?
 The Bluebonnet Collision Center uses multiple different methods to match paint. Your car's color code is located on the car. Our painters will input it into their computer, and the computer provides the formula for mixing it. We also employ a spectrophotometer to help match your car's color. Lastly, we tone in our colors by spraying test panels, ensuring that the color matches before we apply it to your car.
Will you use only factory parts for my repairs?
The Bluebonnet Collision Center would like to use all factory parts for your repairs. However, it's the insurance policy that dictates what types of parts will be used. If the policy states that alternative parts are to be used when they are available, that is how the estimate is prepared. However, you do have the option of requesting that genuine factory parts be installed and paying the price difference.
How long will you have my car?
 The time that the Bluebonnet Collision Center has your car depends on the extent of damage, and whether or not hidden damage is found once your car is taken apart. To minimize delays, parts are ordered per the preliminary estimate, and received before your car arrives. We also keep in touch throughout the claims process, to let you know how repairs are going and when we think they will be complete.
Have you repaired cars like mine before?
 The Bluebonnet Collision Center works on all makes and models of cars, sport utilities, and trucks. We are experienced at repairing all makes and models.  All of our technicians are i-Car and ASE certified and attend continuing education classes for the most up-to-date methods and technology advancements.
Can I get a rental while my car is being repaired?
 Yes. . When you are dropping your car for repair, we can call a rental company for you. They will pick you up and shuttle you to their location to pick a car and go over the contract with you.
 Will the insurance company pay for the rental?
 That depends. If you are using your insurance company to have your car repaired, your rental will be paid for, or partially paid for if you purchased rental car coverage with your policy. Your insurance company claim's department can go over details with you.  If you are using the other party's insurance company to have your car repaired, a rental car can be provided while your car is at the Bluebonnet Collision Center.  Again, ask your claims adjuster for details.
GLOSSARY OF ABBREVIATIONS AND TERMS
DRP Body Shops - Direct Repair Programs (DRP) or insurance company referrals of certain repair facilities could be known as: State Farm's "Service First" program, Allstate's "PRO" program, USAA's "STARS" program, Progressive's "Total Pro or Concierge" program, and Nationwide's "Blue Ribbon" program. Please refer to our glossary of other known insurance company DRF or referral program names.
Although insurance companies refer to direct repair programs differently, they essentially mean the same thing. DRP repair facilities are shops that have formed strategic alliances with insurers. The shop meets the insurance company's criteria of their specific program and the shop agrees to do business in that manner. The insurance company's purpose of DRP (Direct Repair Programs) is to streamline the claims settlement process and they work closely with a select repair facility to accomplish that. The shop agrees to provide many of the administrative duties of the insurance carrier in exchange for the referral.
We will still explain the repair process to you, the vehicle owner. It should be understood and agreed upon on what is being repaired vs. what is being replaced, and what type parts are being utilized in the repair process prior to the vehicle owner authorizing us to proceed with the vehicle repairs. It is the consumer's responsibility and right to choose the repair facility of their choice and authorize the repairs based on a thorough and agreed upon damage evaluation. DRP's (Direct Repair Programs) are an optional program of the insurance carrier. The consumer is not required or obligated to use a DRP repair facility.
OEM - The abbreviation "OEM" implies that the part or parts are made by the original car company manufacturer or its licensed supplier and is a genuine new part with vehicle manufacturer warranty.
A/M - This abbreviation for "aftermarket" indicates parts made by a manufacturer other than the original vehicle manufacturer. These parts are warranted by the manufacturer of the part or their distributor. There are two levels of aftermarket parts; "certified" and "not certified".
QRP - Quality Replacement Part, another term for Aftermarket Parts.
Competitive Parts - Another term for Aftermarket Parts.
LKQ - Like, Kind and Quality.  Used parts from a salvage vehicle of the same make and model, usually from the same year or newer than the vehicle being repaired with comparable or less mileage than the vehicle it is being used for.
Recycled - Used parts from a salvage vehicle that re-enters commerce when sold to a repair shop. The repairer then takes the used component and performs the necessary steps to put it in a recycled condition that will then be utilized in the repair process.
Remanufactured Part - A used, original factory part that has been refurbished to new condition. This could be an original car company (OEM) part or an aftermarket supplier.  This procedure could be performed by an original car company supplier or a licensed aftermarket supplier for the car company.
Rebuilt Part - A rebuilt part may not be an original car company part; it could be an aftermarket supplied part. This is a part that is being repaired and serviced for the purpose of resale. Rebuilt parts are typically supplied by an aftermarket source.
CAPA - This abbreviation is for "Certified Automotive Parts Association" - CAPA parts are aftermarket parts certified by an unbiased third party that insures the quality of the parts they test are equal to or greater than the original car company part.
O/H - Overhaul - Remove an assembly, disassemble, clean and visually inspect it, replace needed parts, reassemble and reinstall on the vehicle making any necessary adjustments.
R & I - Remove and Install. Usually referring to parts being removed from a vehicle to facilitate repairs or to allow access. The same part is then reinstalled on the same vehicle it was removed from.
R&R - Remove and Replace.  This abbreviation means that a part is being removed and replaced with a new, recycled or aftermarket part.
Blend - A process of gradually blending the paint into the adjacent panel being replaced or repaired to facilitate an acceptable color match.
Tint - Means time spent by a painter to tint the color to achieve an acceptable paint match.
Flex Additive/Materials - A product put in paint to make the paint flexible for use on soft parts, such as bumper covers and side moldings.
Color Sand and Buff - Process of sanding a repainted surface with ultra fine sandpaper to remove minor surface imperfections in the paint, or to achieve the same texture of the paint finish as the rest of the vehicle. After sanding the repainted parts are then buffed to restore original gloss. This process may also be referred to as ""Final Sand and Buff" or "Finessing".
PDR - Paintless Dent Repair - The process using specialty tools to remove minor, rounded dents, such as hail damage dents, without damaging the paint.