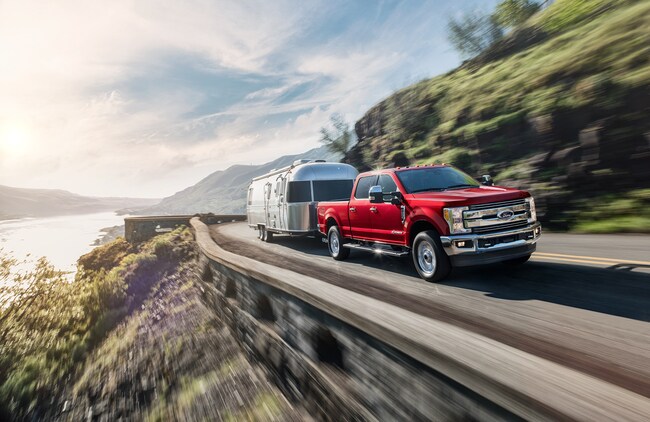 The Ford F-150 gets a lot of attention and for good reasons. For decades it's received accolades and it's truly an everyman (or everywoman's) truck! For the average driver the F-150 has enough power for the day to day and larger weekend tasks, but if you need more full-time grunt the 2018 Ford Super Duty lineup has your back with beefy engines and Best in Class stats.
If you're interested in the Ford F-250, you'll get max towing of 18,600 pounds and the max payload is 4,200 pounds. Still not enough? No worries! The Ford F-350 comes up to bat with 32,000 pounds of max towing and 7,630 pounds for the payload which is Best in Class. At this point, you're in commercial equipment territory.
Still not enough? Well then, you must have some pretty serious needs, but we've got you. Topping out the Super Duty lineup is the Ford F-450 with 32,500 pounds of Best in Class ratings for towing and a payload of 5,320 pounds.
If it's just the numbers game you're after, it's clear the Ford Super Duty trucks are up to the tasks, but we know the creature comforts cannot be overlooked. If you like flair and flash, we suggest choosing a cabin that has premium two-tone leather seats, and it's worth nothing the Super Duty Limited trim has a satin finish on the tailgate. If you're someone who cannot get enough technology you'll love these available features:
180- and 360-degree cameras plus parking sensors (a regular backup camera is standard)
Adaptive cruise control
Lane departure warning
Forward collision brake support
Blind spot monitoring for your truck or trailer if one is attached!
For more information on the Ford Super Duty lineup, visit us at Bluebonnet Motors. Our knowledgeable team will listen to your performance needs and help you find the right truck that won't let you down. We can also show you our Super Duty Chassis options if you're looking for more customization opportunities.